Celtic Eagle News
Celtic Eagle Youth Piping Program

Celtic Eagle Pipe Band is proud to announce their new Youth Program featuring bagpipe lessons for beginners aged 8 to 18 years old.
"The Celtic Eagle Pipe Band
You are just wonderful!  You add so much to our events.
Each member of the Celtic Eagle Pipe Band obviously puts so much effort into the performances: rehearsing, dressing appropriately, venturing to various venues, dragging instruments and paraphernalia. It's not easy, but your audience does appreciate your efforts.
Many people comment each time you play for us about how much they enjoy seeing and hearing your band.  Some come to our events specifically to see you perform.
We all know (or try to keep up) with the awards received by your individual members and by the band in total.  You are absolutely amazing. 
Aside from all that – your members are very pleasant and cooperative.  It is the reason we chose you to be the one and only official band for the Scottish American Society. 
Thanks so much for all you do"
Scottish American Society
May 2019 - Celtic Eagle Performs At The Medina County Sea Of Youth Candlelight Vigil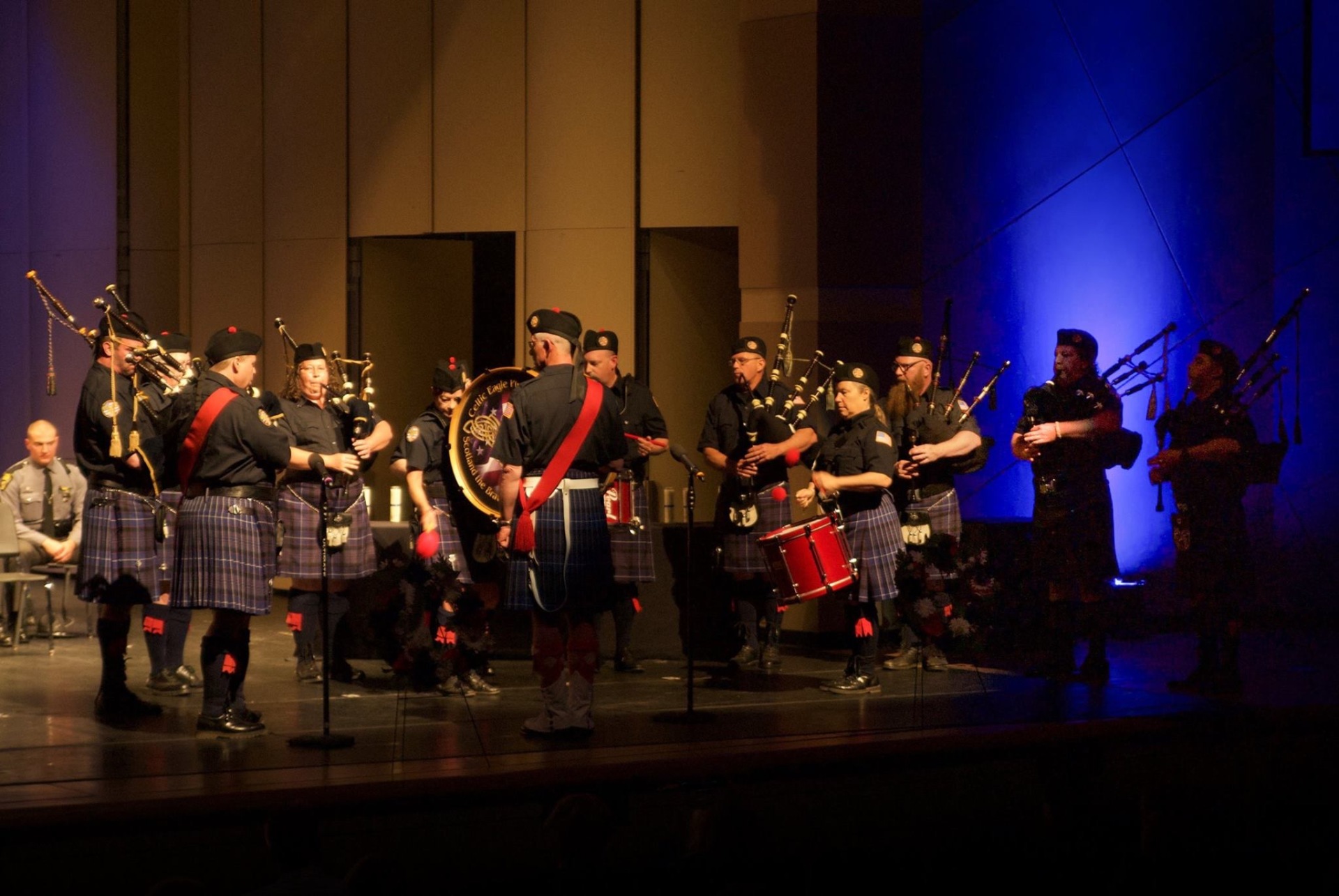 May 17, 2019 - For the fifth year in a row, Celtic Eagle Pipe Band will perform at the Medina County Sea Of Youth's candlelight vigil; dedicated to the men and women in law enforcement. This annual event coincides with the Sea Of Blue National Police Week ceremonies, which pays special tribute to fallen law enforcement officers who lost their lives in the line of duty. This candlelight vigil was organized five years ago by Trevor Satterwaite, a middle school student in Medina, as a way to show the support of today's youth to members of the law enforcement community. This community event continues to thrive, thanks to Trevor's dedication and hard work towards the support of law enforcement officers, and the sacrifices they make to protect and serve.

What If I Told You... YOU Can Learn To Play The Bagpipes Or Drums?
WARNING:  If challenging yourself, learning a new skill or talent, making new friends, being part of something bigger than yourself and directly contributing to its success, being involved in something you can be proud of, and...having fun in the process does NOT appeal to you...DO NOT READ ANY FURTHER!

However, if any or all of these are something that you're missing in your day-to-day life, or perhaps...you're just looking for something different...then continue reading. We may have just what you're looking for!
Celtic Eagle Pipe Band is a FUN, family oriented organization, that prides itself in bringing authentic Scottish, Irish, and Celtic music and culture to the public through competitions, parades, and other public/private performances.
We are ALWAYS looking for people who are interested in learning to play the bagpipes or drums to join our growing family! Perhaps you're an active musician looking for something new; perhaps you played in high school or college band, or marched in a drum and bugle corps and want to get back into a marching unit; or perhaps...you've never touched a musical instrument in your life. Whether you have experience or not...it doesn't matter. All you need is the desire to learn, and we will help you with the rest. 
We invite you to check us out at our rehearsals, and see for yourself if you would like to give the pipes or drums a try. If you would like to arrange a visit at one of our rehearsals; or if you have questions about who we are, what we do, and how YOU can become a part of it, Please contact us .  Who knows...you may just find what you've been looking for!
March 2017 - Celtic Eagle Takes 1st. place at Ohio Valley Branch Indoor and College/University Championships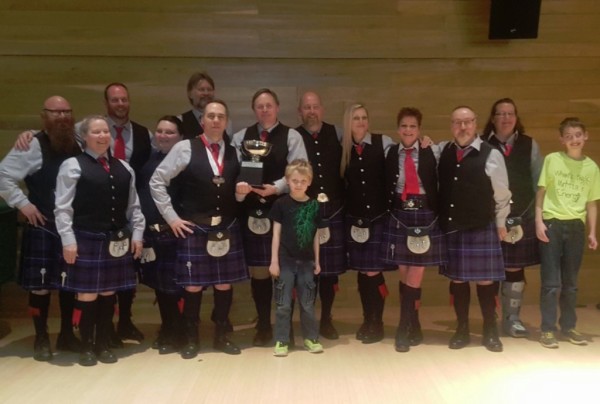 March 25, 2017 - Celtic Eagle Pipe Band competed in the first annual EUSPBA Ohio Valley Branch Indoor and College/University Championships, that were held at Edinboro University, in Edinboro, PA. The championships comprised full band, small ensemble, and solo competitions, in this brand new event. Celtic Eagle is proud to have taken 1st. place in the class 5 pipe band catagory. In addition, our very own Brian McElhinney competed in the grade 3 solo piping competition and placed 2nd. in the 6/8 march, 3rd. in the jig, and 3rd. in the piobaireachd...congratulations Brian!